Self-reliance is a life skill that in the beginning depends on having cheerleaders on our side encouraging us to keep moving forward, take the next step until we gain the confidence to do so on our own. This fact is true for most of us no matter our age. Especially with children though we must balance our praise and encouragement with some needed help to get them over an obstacle that may be too much at this moment in time.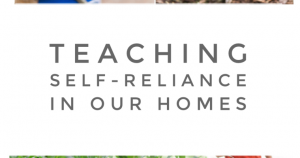 The tricky part that has been the most difficult for parents since the 1980's is the part of giving too much. I am becoming more convinced with each family that I work with and talk to that it is the giving of too much that has created the reason that we need to focus so much on self-reliance, resilience, and grit in our young people today.
There are so many examples of young people that did not grow up in a situation that their parents had very much to give except for their unconditional love and building a relationship with their kids. In those kids many times we see grit and determination to do better for themselves and to make things happen. Unfortunately, once they have gained a level of success, they may not realize it was the hardships they went through and the work they did that created the person they are today. So they make the mistake of wanting to give their kids everything they did not have and, the virtue of determination, the life skill of self-reliance is not strengthened in their children.
In other families, I have seen the children handed everything they need and want and later in life, grow up not knowing how to pull themselves up from failure and make something happen. They continue to look for others to do things for them. Now just to be clear this is not a blanket statement about every kid and every family. However, not encouraging our kids to work for their goals is not going to help them be self-reliant.
Building self-reliance is key to building a stable, resilient, gritty adult. Balancing our helpfulness and generosity with our kids with honoring their dignity and strength is what creates healthy successful and happy adults. Doing too much for a child does not allow them to strengthen this life skill or their resilience that they need in the adult world.