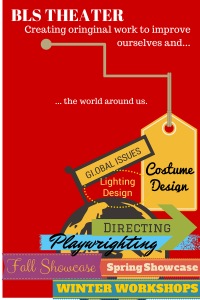 Balanced Life Skills is rolling out an exciting new theater program that will give students the opportunity to change the world. This program will teach students valuable life skills such as diction, movement, research and public speaking while harnessing their imaginations in order to tell compelling stories. They will also be exploring issues that are important to them and taking ownership of all aspects of production for  piece that will engage the community and inspire people to become a part of the solution. Here is a look at what we have planned for the coming year. If you have questions about any of these programs, please contact ellen@balancedlifeskills.com.
Summer 2014
Summer Campers will explore the world of Shakespeare, Comedia Dell'Arte, and Kabuki
Students will explore Deforestation, Equality and War and make a presentation on these important issues at the end of each week
Kick It! girls perform at First Sunday Arts Festival
Click here to register for our summer camp!
Fall 2014
First 10 Week Theater Sessions begin
Participation in the Annapolis Fringe Festival
One – Two Day workshops offered that will include Performing Arts, Visual Arts and Performing Arts
Fall Showcase for Performing Arts, Visual Arts, and Performing Arts
Click here to visit the performing arts page and learn more about our program offerings
Stay tuned to find out how else our students will change the world!