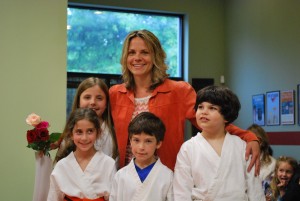 This week we will celebrate the teachers of our students.
We are inviting all of the students to ask their teachers if they would like to visit Balanced Life Skills and see their students whom we share, practice their martial arts skills. I have a deep appreciation for all that teachers do for our students.
They spend a great number of hours preparing lesson plans, looking at student work, answering parent questions – much of this is outside of the 'normal' working hours.
Teachers have their own families and all the responsibilities that come with that job. Sometimes it is easy to forget and we may even be surprised to see teachers as parents, with all of the same issues that we are struggling with in our own family.
Teachers pull out of their own pocket money to provide for their students provisions that they do not have. On average a teacher spends between 600 and 800 per year and many spend much more than that.
Teachers fill the role of educator, caretaker, coach, nurse, and so much more. They are like the mom at school for the hours your child is there.
With all that they give they sometimes forget to replenish themselves with time for their own desires, spiritual strength, taking care of their own emotions and needs. Many times they will not ask for the help they need or want – as they continue to take on the role of super heroes.
This week please celebrate your teachers. They are kind and giving. When they go home at night it does not end for them, as they continue to think about what and how they can make your experience even better tomorrow. I would ask each of us to remember your own teachers, and those of your children as people with great big hearts and a desire to share with others.
How will you show kindness to your teachers this week?