Balanced Life Skills 10th Anniversary celebrated with Mr. Tony's First Degree Test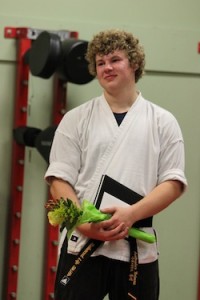 On Friday October 25, Balanced Life Skills hosted Mr. Tony for his First Degree Belt Test. It was a great evening and we will be posting some of the video from the test at later dates. In addition though I was surprised by another celebration that I was not aware was taking place.
Ms. Ariel and others got together and created a picture book depicting our last 10 years of Balanced Life Skills. On November 3, 2003 – Balanced Life Skills was born. It's start was in a very small room shared with stationary bikes. Each day the mats were placed and picked up. At the beginning there were just a couple of students in each class. We have grown from there to our present location on Gibralter Avenue.
The goal and mission of Balanced Life Skills has always been to provide great training in the martial arts, and to supplement that with character building and community service. While physical self defense is an important confidence builder, it certainly is not the only kind of defense we must be able to display. In fact very few of us will be attacked by someone we do not know physically – but virtually all of us will be threatened with conflict with others, anger issues or an issue with our diet. All of this kind of education is SELF DEFENSE.
This year we are announcing the forming of Balanced Life Skills Way. This will be online curriculum, personal workshops, personal coaching in all kinds of subjects that make up a way of living. Primarily they will be for parents and children / young adults. They will include subjects ranging from anger management to time management. They will help young people learn to write resumes and be interviewed for college or a job. In the next few years I see this program having an impact on all of those that take part. We talk about and train these skills in our classes – but now is time to make them available to others.
Thank you to everyone that has made Balanced Life Skills the school it is today and we look forward to more collaboration of experts helping us cultivate compassion, awareness and respect in every child and family resulting in well rounded Community Ambassadors.