This month we have defined courage as the willingness to face fears and challenges with determination.  Now while some may believe that courage is not having any fear, the fact is that those with courage probably are just as scared, nervous or worried as others, they just do not let that get in the way of going after their goals.
Fear is always relative to experience and the stories we tell ourselves.  If I tell myself a big enough story about ferris wheels I may not be willing to try to get on that ride at a carnival.  If I tell myself that speaking to a group of people may result in me embarrassing myself, my fear may prevent me from taking that risk.  But when we look at history many who would not have initially have appeared to be strong, were in fact willing to get past their fears and make stands for what was right and to make decisions that later affected generations of individuals.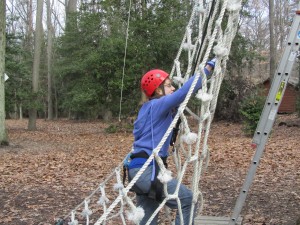 Learning how to demonstrate courage, how to calm ourselves down so we can make courageous decisions and act in courageous ways is what we will be talking to our students about this week.
Here is a photo of courage.  This student of Balanced Life Skills does have a fear of heights and was able to conquer the high ropes course during the day of endurance for her black belt test.