What would you do if:
Teaching children self defense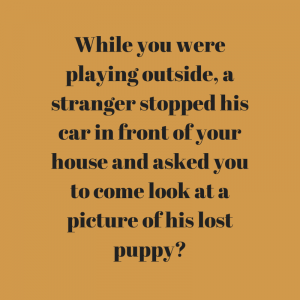 This can be a difficult subject to talk to your kids about without scaring them into thinking that every stranger is out to get them.  On the other side, studies have shown that many, in fact the majority of children, even though their parents have talked about this will put themselves into a dangerous situation when faced with this situation.
Here is what you want your children to know:
It is OK to say NO to an adult
Adults should go to other adults for help, not children.
Never go towards or near a car when it is someone you do not know
Always turn and run back into your house and tell an adult right away
The child may fear that they have done something wrong.  They may have been further out in the yard than you generally allow them to be.  Reassure them during their training that they are not in trouble if they tell you their story.
To give your children the best chance to know what to do and the courage to do it remember this quote:
"Tell me and I forget, Teach me and I may remember, Involve me and I learn."
The most important part of this kind of training is role playing it is involving them in the training.  Have the child pretend with you different scenarios, role play different questions with them.
"would you like to see my puppy?"

"can you help me find my puppy?"

"do you want a piece of candy?"

"can you help me carry these packages to the door?"
Depending on the age, limit the amount of time on each session you are teaching your children. It is better to schedule a self defense day with the family on a regular basis.  Some days it may cover this subject or many others like the ones we talk about at Balanced Life Skills.  Consistent short trainings are far more effective than a one hour class that you take one time.
We are here to help you keep your family safe.