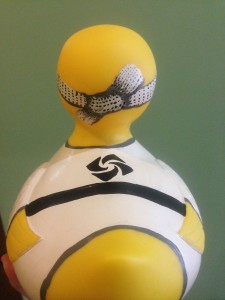 What does Quackle's our duck have to do with hunger in Anne Arundel County?
Here we are in the year 2014 and according to the Food and Agriculture Organization of the United Nations there are 842 million who do not eat enough to be healthy.  That is a figure that equates to 1 out of 8 people on Earth that go to bed hungry every night.  One third of all children under the age of 5 in developing countries die from malnutrition.
But never believe that this is a problem just for southeast Asia or the deserts of Africa.  In the state of Maryland – the fourth richest state in the USA – one in ten children live in poverty.  In Anne Arundel county we are experiencing a growth of over 26% in applicants for food stamps to supplement the food for families.  However please note that if you make 14,000 a year for a family of four – there is no assistance for you.  If you may 12,000 you get $113 a month to feed your children.
That is why with over 1100 students in our county who are homeless, we are aware of the need to help others.  I personally am a member of the South Anne Arundel Rotary Club who provides food on the weekend for over 90 students in South County schools during the school year.  The first question I am asked is what about the summer.  Yes I know that is a problem and we are currently working with others looking for a way to address that issue.  But for now we are feeding during the school year over 90 families that would otherwise have much less or no food in their house.
You can help by supporting our Quack for Packs Family Fun Day on June 1 at Camp Letts in Edgewater.  By buying a duck for $10 you will help feed 2 families on a weekend.  I personally would invite you to come to Camp Letts between noon and 3 PM for the Duck Race, good food, fun games and music and help us feed these families on the weekend.
Balanced Life Skills is a Title Sponsor this year and we will be there to have a good time with you too.  I hope many of you are able to attend!  "Quckle's is our Duck in the race.  Join our efforts to win the Golden Duck Trophy!