October is Domestic Violence and Bully Prevention Month.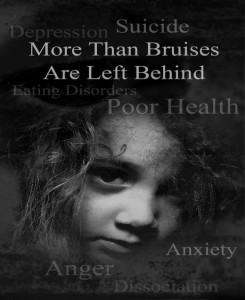 Everyone needs to be aware of these two very similar and related methods of ABUSE .  In both domestic violence and bullying, certain behaviors are used to control another person. The behavior may occur in either a married or not married situation, it could be heterosexual, gay or lesbian, or living together, separated or dating. The behaviors may be occurring at school with kids or at home between siblings or even parents bullying kids. It even has happened at time with teachers on students. Here is a list of just some of the behaviors that are abusive that could be domestic violence or bullying:
name calling or put downs
keeping a person away from friends
actual or threatening physical harm
stalking
intimidation
sexual assault
Anyone could be a victim.  Abuse that starts as bullying as a child may grow up and either be abused or become the abuser.   It may be male on female, but can be the other way around too or male on male or female on female.
If you are being ABUSED – Remember
You are not alone
It is not your fault
Help is available.
For assistance with bully prevention check out our coaching,  advocacy work, and school workshops.