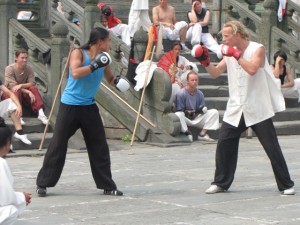 This past week my class had a sparring session. These sessions take their toll– we spend the rest of the week dealing with the damage we've inflicted on each other. Personally, I had a bit of a headache from all the blows I didn't quite block or dodge, and I sprained something in my hand in a bad punch, and a few other minor complaints. But the week of training reaffirmed my belief about the nature of martial arts in today's world.
I personally fought two three minute rounds. I spent three and a half hours in a more-violent-than-usual environment, watching my classmate spar each other. That is a tiny fraction of my week, and an infinitely tinier fraction of my life. Someone who doesn't train as I do might have an even smaller fraction of violence in their life. I think this ratio, violent life versus the rest of life, shows where our training priorities as martial artists should lie.
There are many martial artists that I have met who allow their training to interfere with their perspective on life. They spend so much time thinking about what happens in that tiny violent fraction that, first in their perception and then sometimes in their reality, that violent fraction swells. Violence fills their subjective reality, even if their objective reality is peaceful.
The day after we sparred, we got called away from the school to work on a silly performance thing (talk about a distasteful fraction of my life ;-p). But in the performance we were working with little 8-10 year olds. These kids were high-energy, full of curiosity about foreigners and eager to show off their elementary English and kungfu. Really, they were awesome. But with my head aching and my hand tender, and my annoyance at having to do the performance at all, I was immensely impatient with the little boys and girls. I couldn't enjoy their exuberance at all.
But those kids represent reality. The 99.99% of my time that is not violent is about carrying on, connecting with people and together enjoying and celebrating life. So the most important part of my martial training is the discipline, emotional control, and inner balance that lets me put pain behind me and live a full life. And these skills apply to all kinds of situations– emotional pain, accidents, sickness, death–things that real life is full of far more than real life is full of violent physical confrontation.
Of course, some people face real violence on a day-to-day basis, something I truly know nothing about. But for those who, like me, train ourselves despite having been blessed with a peaceful life, we need to remember where the real treasure of the rich practice of martial arts truly lies.