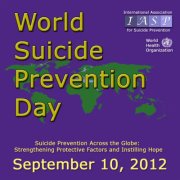 Today, September 10, 2012 is World Suicide Prevention Day.  While this is still a difficult conversation to be had for many individuals, it is true that each one of us can take part in both primary and secondary prevention.  With over 33,000 individuals completing suicide each year in the United States alone, and the affects touching the lives of dozens for each of those completions, our help in prevention is required.
The first step and primary prevention of suicide requires that we promote physical and mental health in our community in general and continue to educate and talk about mental health issues.  Our goal is to reduce the stigmatization of mental illness and suicide, while encouraging seeking help for mental health issues.  We can do this with our conversations both public and private and education campaigns.
The second step or secondary prevention is the identification of mental health issues, suicidal ideation in individuals who are in our community.   Both professionals and individuals in the community who come in contact with those who are under stress can be trained to recognize when there may be signs that the individual is in need of help and then able to refer them to appropriate facilities.  Such individuals include you and I, if we will take just 60 – 90 minutes to be trained as "gatekeepers".
Finally the third level of prevention is aimed at preventing relapses of suicidal behavior and the care, support and treatment of those impacted by suicide.
Take a moment today and think about how you may be willing to be part of an effort to save the life of one person.  Join us in our efforts to educate our community in being gatekeepers, by recognizing the risk and facilitating getting professional help.