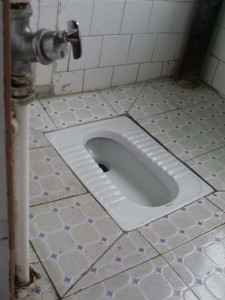 I'll start this one off by saying that I hope no one minds a little frank discussion of bathrooms and their function. I am only writing this because in my own transition to Chinese plumbing, a little frankness might have saved me some trouble, and taboos aside, it is interesting contrasting two solutions to this most basic of human problems.
Many people in the US and elsewhere have probably never even seen a plumbing fixture like the squat toilet that is the standard in China. It is essentially a porcelain hole in the floor, rigged to flush (hopefully). I think most westerners, when they first come to China, are a little shocked by this and try to avoid using one as much as possible. Admittedly, China's sub-par standards for plumbing installation further aggravate the issue, because the squat toilet room is frequently badly built and quickly becomes filthy as a result. But I believe that many if not all of us eventually come to accept the squat toilet for its virtues, and may even prefer them to western seat toilets. As the saying goes, "You know you've been in China too long when the footprints on the toilet seat are your own."
Learning to use Chinese toilets is further complicated by social taboo. When we are children, adults teach us to use the facilities provided. When the available facilities change, however,  a little instruction would be valuable. But as adults the subject is not easily broached. I know I could have used the following hints: First, bring your own toilet paper with you, everywhere. In the West, if you need tissue, you can count on finding something in a public restroom. In China, only the fanciest hotels provide this service, and you don't want to get caught out. Second, gathering your garments around your ankles gets in the way; gather your garments around your knees. Third, if a toilet brush is visible nearby, it is very good manners to clean up after yourself a bit, especially if you are someone's guest (squat toilet design is a little inefficient in the flushing department).
As for the virtues of squatting, there are several, of which here are two. For one thing, regardless of the hygienic standards of the bathroom you are using, squatting means you won't really be touching anything objectionable. You may find yourself in a closet that is a far cry from an interior designer's dream of an airy, sunlit commode, but you are not actually risking infection if you squat.
Second, the daily repetition of the act of squatting is fantastic for the health, flexibility, and strength of the ankles, knees, and hips. The squatted sitting position is iconic of China; you can see people relaxing in this position on door steps, on the street, and in the park– just about anywhere. Think about the West, however. When if ever do we support our weight with our hips below the level of our knees? This kind of strength is crucial for standing up from sitting or lying on the ground, say, after falling down. But in our culture of chairs, we never exercise our legs past the range of motion defined by 90° angles at the knees and hips. So we reach, say, age 40, and getting up from the ground has become an exhausting 12 step process, prohibitively difficult. We chalk it up to getting old, but that's just not right. Elderly people here get up and down pretty easily. And I think it all starts with reps in the bathroom.