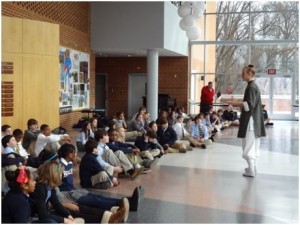 This week has been crazy and awesome.  As I sit down to write about it, I realize one of the major differences in my life here and my life training in Wudang. There, when I train my mind is either off or focused on what I am doing, and outside of that I have fairly few demands on my attention and I have plenty of time to reflect and plan. So writing a blog happens fairly naturally.
Here at home, I work at an architecture firm, I teach, and I do demonstrations and talks about Wudang. There are always demands on my attention, and reflection often has to wait. So while in Wudang, the physical side of my training seems my prime concern, being home is a training ground for my internal art. This is where the theory meets reality.
That said, I had a wild but fun week. Thursday night I attended a Chinese embassy celebration of the Chinese New Year at the Meridian Center in DC. Definitely one of the neatest evenings I have had in a while. There were a lot of diplomats there, a beautiful musical performance, and two Chinese art exhibits, one of woodblock prints and one of modern paintings on porcelain. I was there with my kungfu sister who is working hard to establish avenues for the sharing  of Wudang culture and wisdom with D.C. and the U.S.
Friday was spent at the Bullis School in Potomac. I did a collaborative demonstration with two Shaolin monks. Of course, they were masters and I am still a student, so it was quite an honor to share a stage with them. I really enjoyed meeting them and other amazing members of the kungfu community in the D.C. area. It was wonderful to meet other people who dream dreams like my own.