January 9th through February 14th, I am pleased to be offering a seminar in Qigong at Balanced Life Skills. Qigong has been one of my favorite discoveries in the course of my martial arts education, and I am always excited to share my love of it with others.
What is Qigong? Imagine the practice of martial arts as a line. One one end is fighting, and on the other end is purely health oriented exercise. Qigong would fall near one end of the line, and it might look like this: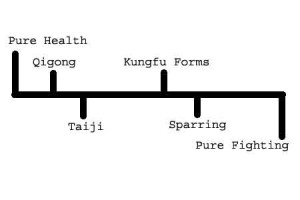 Literally "Chi Work," Qigong is a kind of moving meditation. In a series of dynamic poses combining breathing, flexibility, strength, and mental focus, it seeks to nourish the internal health of the body. It is adaptable to the level of the student; a sedentary newcomer and a conditioned athlete will both find challenge and growth.
There are uncountable permutations within this broad category of exercise, each with its own focus, theory, tradition, and practitioners. In Wudang, I have learned a few different Qigong practices. My favorite is Five Element Qigong.
In the seminar this year, I will be focusing on Five Element Qigong, but will range as well into other aspects of my own practice that have informed and enhanced the experience of Qigong.
The seminar will be held, January 9th – February 14th,  on:
Mondays 5:0o PM and 7:00 PM
Tuesdays 11:00 AM
Students should plan to attend at least one hour-long session a week, but are welcome and encouraged to attend additional classes for more guided repetition. Those interested are welcome to try a class in the first week for free. Seminar fee= $10/week