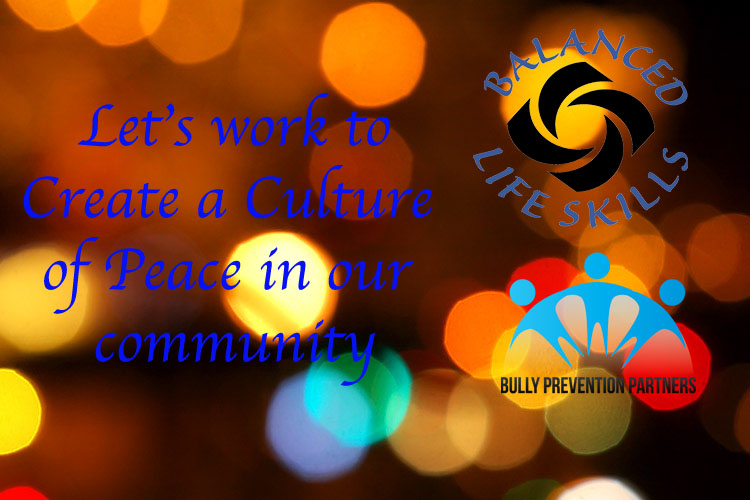 Thank you to everyone that has contributed to the Balanced Life Skills Community this past year of 2012.  Our school has provided costumes, jump ropes, food for those in need here in our community and in other parts of the world.  Our students stepped up and did much to support USA troops stationed around the world.  Support for the teens in foster care this holiday season was the best ever.  With the support of our students we now have one of the most complete collection of books on the subject of bullying and relationships for students, parents and teachers.
Our Grants 4 Teachers fund has now given almost $30,000 to teachers in Anne Arundel County.  This year we started Bully Prevention Partners with the goal of creating a culture of peace in our schools and helping every child to feel safe in school and their community.  We have continued to support the Youth Suicide Awareness Task Force here in Anne Arundel County and this year with the help of one our students will be offering training right here in our school.
Upcoming this year will be a growing emphasis on Bully Prevention Partners and reaching out to the community.  In addition, we will be holding Safety Seminars for parents and young students to address how parents can talk to their children about safety including "good touch, bad touch".  There will be guest instructors invited to the studio this year starting with Corey Hopp in January, Gerald Dawson in February and Keenan Cornelius in the spring.  I am planning on more nature hikes for students and in the spring (date to be announced very soon) BLS very first testing for black belt.  This will be an event you do not want to miss.
I am so proud of our students, young instructors and all of our families.  I promise to be here to continue to work on character building, physical growth in strength and skill, and teaching self defense in its most global meaning.  Working together we can have an impact on our community in a most meaningful way.