Last weekend our school took a short hike at SERC. This weekend coming up though is a great opportunity to see a beautiful area in our County that is still being prepared for opening to the public. You will have the opportunity to have a guided walk through some pristine woods and see some of our best marsh and water for natural habitat, as well as learn why this is so important to our county.  Here is the official announcement: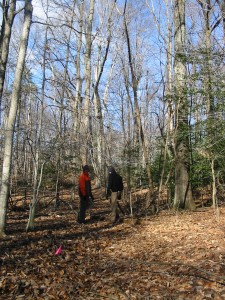 Join Anne Arundel County & SRLT this Saturday for a fall colors hike! There will be one guided, strenuous 4-mile off-trail hike to the mill site, led by Barry Boyd at 10:30 a.m. Those who would like to explore the cemetery or beaver dam loop trail on their own can come anytime. Trails will be open for hiking from 10-2, please arrive no later than 1 pm to enjoy the day.
If you have any questions, or to RSVP, email alyssa@SRLT.org. For day-of questions, call 248.860.7635. Directions: Take Generals Highway to Crownsville Road, turn right on Marbury Road (within 1/4 mile of Generals Highway). Continue onto Farm Road (unmarked). Parking area is to the left after the overpass (different than Walk for the Woods — you can drive over the overpass onto the grass). Please note that this entrance is only open to the public for special occasions.
For more information on the Scenic Rivers Land Trust follow the link.