There are a number of ways that we as parents can help our children grow in their self reliance.
Parents can be their greatest cheerleaders'
Parents can schedule practice time on skills the kids are learning
Parents can encourage children to try things on their own
Parents can teach children how to cheer themselves on their own.
Being our child's cheerleader comes pretty naturally for parents. We are very proud to see them try something new, put forth the effort in that endeavor or skill, and be successful.  When they are trying something new, encouraging them that you have faith in them, builds their will to keep trying.
Practicing their new skills can also help to create self reliance in our children.  How do we get them to practice though without it becoming our burden as a parent?  Setting aside a scheduled time that is reasonable in length for the age of the child and letting it become a part of the daily routine.  So if the child is 4 years old you may suggest 2-3 minutes of practice time for their skills.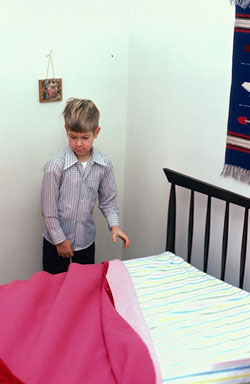 But if they are 10 or 11, they may set aside 10 minutes or a little bit more to review and practice.  Having a schedule and routine is key to developing the self discipline needed and that will be followed up with confidence and self reliance.
Encouraging our children to try new things on their own is a part of developing self reliance.  Every child will have a different inclination to trying new things – some aggressive and some wanting to try anything.  Our goal is to let them know that we believe in them and allow them to be successful with our encouragement and their practice.
The highest goal is to have our children learn how to cheer themselves on.  When they learn to have "self talk" that says, I can do this, or go for it they are developing their own skills in self reliance.  When they meet that difficult physical skill, math skill, paper to write or science project, having that kind of confidence in themselves will help them accomplish their task to the best of their ability.
Parents will not feel like they have to do things for them because their children have learned Self Reliance.