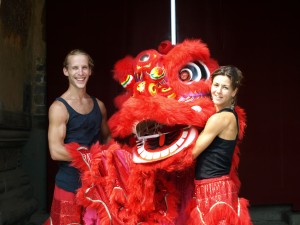 A cool opportunity dropped in my lap yesterday. Daria, a classmate of mine, is doing some work on the internet helping people back home in Russia get practice weapons and training clothes from here in China. She just received a lion dancing costume which she is going to forward to her client, but she asked the client if first she could try it on and take some photos. She just needed someone to be the tail. That's where I got involved :-).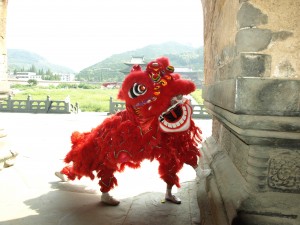 I am not going to try to write anything informative about lion dancing (I know almost nothing about it) but after thirty minutes of sweating under that thick costume material and straining to hold Daria up in some of the poses we came up with, I have new respect for those who practice this art form. I had thought it to be a dying or dead art, but I learned yesterday that there are kungfu schools in Canada and the U.S. where the dances are still practiced and preserved. In my time in China, I have never seen a lion dance costume or seen a dance performed, so I thought it was not done. But perhaps it is a regional tradition and I have just not been the the right places.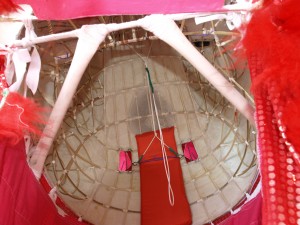 As a guy who likes making things, I find the head of the lion fascinating. By coincidence, I have been working on a project using similar bamboo construction techniques, and seeing the craftsmanship on this head is awesome. The outside of the head is beautiful, but for me, the inside is mesmerizing.