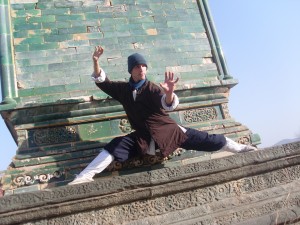 Greetings
I am Corey Hopp, a student at the school of Master Yuan Xiu Gang in Wudangshan, a rural city in Hubei province, China. I have been training here intermittently since 2008, and with full-time intensity since 2009. I am now a member of our school's traditional class, an amazing opportunity for non-Chinese to learn the ancient arts of Taijiquan (Taichi), Gongfu (Kungfu), and Qigong, as well as Daoist philosophy and tradition.
On my recent trip home to Annapolis, I had the pleasure of meeting the Balanced Life Skills community and teaching a brief seminar covering some of the basic exercises I have learned here in Wudang. With this blog, I want to continue to share some of the rewards of my adventures here. Imperfect as my understanding of my Master's teachings may be, I hope to set down my reflections on what I am learning and give a series of snapshots of the life of a foreigner in rural China. I won't claim the things I write to be anything more or less than my own opinions and observations, but hey, that's blogging.
As I mentioned, I am a member of the traditional class. This means that I have committed to be here at the school 11 months of the year for 3 or 5 years. I have committed to a disciplined and rigorous lifestyle and training program. I have pledged myself to do what my Master tells me to do, in the faith that his wisdom will rub off on me someday. A day when I am not in pain, whether from fatigue or from sparring practice, is rare. The discipline makes space, however, for great peace of mind. Check out www.wudangtaoistarts.com for more info on my class.
I have just returned to Wudangshan from a trip home to visit my family and repair my finances. Before that trip home, I was in China for my longest continuous training, 15 months. Those months changed me, and just being home for a while was an adventure in itself. But check in next time to see what I mean.