How do you know if your child is being bullied? What can you do about it? Could your child be the bully?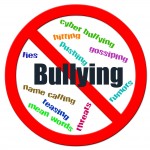 On March the 15th the Anne Arundel Medical Center is offering a free interactive panel discussion for parents and care givers. This discussion will give parents the opportunity to speak to and ask questions of representatives from the Medical Center, the Community College, Anne Arundel Public Schools, the Police Department and Balanced Life Skills Bully Expert Mr. Joe Van Deuren.
It is a FREE event open to the public. Prior to coming to the event you may want to take the Bully Quiz to see how many myths you may have heard, seen or believe found on the Balanced Life Skills website. Then come with your questions ready for the panel to address.
We look forward to seeing you on Wednesday March 15, 2011 at 6:30 PM at 2000 Medical Parkway / Doordan Institute 7th Floor AAMC Health Sciences Pavillion.
You may register by going online HERE and click on "Events and Classes" on the right,   or call to register at 443-481-4000.   If you would like your child to be trained in Bully Prevention please call Balanced Life Skills 410-263-0050.  We would be happy to help.