Halloween is complete and all of our youngsters came home with more sugar filled treats in their bag than is good for them. Before you as a parent allow them to eat our normal "just one per day rule" – consider this about their health: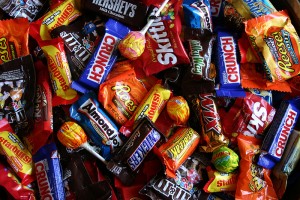 High sugar intake causes blood sugar imbalances that lead to Type 2 diabetes.
High sugar intake can lead to tooth decay, headaches & migraines, hypoglycemia and kidney damage
High sugar leads to obesity. The body converts sugar to fat!
Sugar is linked to immune system suppression and contributes to other diseases, like heart disease and cancer.
Helpful tips:
Sugar has many names including: sugar, cane sugar, cane syrup, corn syrup, high fructose corn syrup, fructose, maltose, dextrose, rice syrup, agave, molasses, steevia, splenda
Try not to exceed 100 calories a day of added sugar
Try not to consume a food or drink with over 10g of sugar per serving
Drink water instead of soft drinks and juices
Check the label for sugar content per serving
If you have just way too much candy from the night of celebration, we invite you to donate the extra to our drive for Operation Gratitude.  Balanced Life Skills will collect candy until December 2 and will be sending care packages to U.S. Military around the world. In fact our own Ms. Ariel has a brother who is serving abroad and will receive a package.