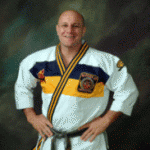 Guest Post By Tom Callos for Balanced Life Skills.  Mr. Callos is Mr. Joe Van Deuren's mentor, coach and instructor.
This is an article full of shopping advice. If you're shopping for a martial arts school, for training, then you've come to the right place.
I've been studying the martial arts for 40 years, I'm a 6th degree black belt in taekwondo, a 17 year practitioner of Brazilian Jiu-jitsu, and my students have include national taekwondo champions, karate point-fighters, and mixed martial arts legends. So, when it comes to martial arts training, in every –and any –realm, I know (exactly) what I'm talking about.
Here are three piece of advice for you, regardless of the kind of martial arts you might be interested in: Continue reading "Mixed Martial Arts (MMA), Karate, Taekwondo, or Jiu-jitsu, which is Best?"