Suicide Prevention Training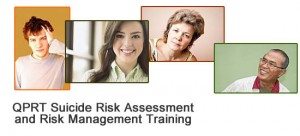 QPR training is a training program that in 3 simple steps helps anyone learn to help save a life from suicide.  It has been used in Anne Arundel County to train teachers in the public schools and some private schools as well as other youth-serving organizations (sports leagues, day care centers, after school programs, children's clubs, church groups and more).
QPR is available for groups or individuals and is taught by trained and authorized  facilitators who have been trained by QPR Master Trainers.
CEU's are available from Anne Arundel Community College for this class.
Who Uses the Program?
QPR is a simple educational program that teaches ordinary citizens how to recognize a mental health emergency and how to get a person at risk the help they need. While it has been used to train teachers it has also been used for training doctors, nurses, firefighters, police and other professionals who deal with the public.  Just as important though is that parents, friends, neighbors even teens – anyone can learn to recognize and refer someone at risk of suicide.
What Topics are Covered in QPR Training?
1.  Recognize the warning signs of suicide
2.  Know how to offer hope
3.  Know how to get help and save a life
What Outcomes Can Be Expected After Training?
1.  Each participant will be able to recognize the early suicide warning signs.
2.  Each participant will know what and how to ask about suicidal ideation.
3.  Learn to refer to local resources and get professional  help.
4.  Learn about early professional assessment and treatment.
How is the program delivered?
You may contact  Mr. Van Deuren or The Anne Arundel County Partnership for Children, Youth and Families.  Make arrangements for a facilitator to provide training at your location for a group.
How Long Does the Training Take to Complete?
QPR Training typically takes about 1 – 1.5 hours. Think about it — in just 1.5 hours, you'll have the information you need to better protect every student, family member and friend you know.  Much like CPR has saved so many lives of individuals until professional help could take over, so too QPR saves lives by ordinary citizens with early intervention.
All gatekeeper training is offered FREE of charge.
Would you like more information?  Contact:
Joe Van Deuren

Balanced Life Skills

133 Gibralter Avenue

Annapolis, MD 21401

Telephone: 410-263-0050

Email:  joe@BalancedLifeSkills.com

Ali Holstrom

AA County Partnership for Children, Youth and Families

1 Harry S. Truman Parkway, Suite 103

Annapolis, MD 21401

Telephone: (410) 222-7423

Email:  SRHOLS44@aacounty.org