Tiger Tots (Age 3 ½ – Pre-K)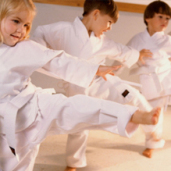 The Tiger Tot Class is designed for pre-school aged children taught in separate classes for 30 minutes one time per week. This curriculum is focused on teaching how to interact in a group experience through Life Skills training. Tiger Tots learn about fitness and basic technique through a playful, game-like experience. In a fun and energetic environment we work on basic gross motor skills, listening and social skills.
Lil' Dragons (Age 5/6 – Kindergarten & First Grade)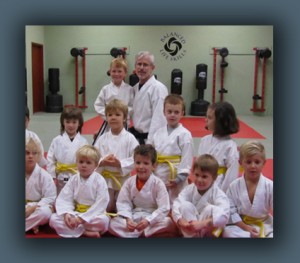 The Lil Dragon program for 5 and 6 year olds is taught in two classes per week (Monday/Wednesday or Tuesday/Thursday). We believe that our 5 & 6 year old students (Kindergarten and First graders) still learn the best by play.  Based on this belief, we use instructional approaches that fit their needs.  We constantly work to identify safe, innovate, and fun ways to connect with our students to make their training something beyond learning to kick and punch. A major focus continues to be to teach how to help and serve others.  In addition to the physical work they are doing, they continue to practice doing acts of kindness and will begin to learn how to lead their own projects of service to their community.  We emphasize to them that their most important team is their family and the need to contribute to the family by doing chores without being asked is a part they can do to contribute.
Big Dragons (Age 7/8 – Second & Third Grade)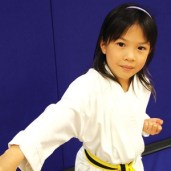 The Big Dragon program also meets two times per week, either Monday/Wednesday or Tuesday/Thursday.  We seek to add physical and mental challenges in their training, while still focusing on a positive learning environment. Emphasis on community service and helping others as a team continues to be a strong focus of this class. Students in this age group are so creative and have such big hearts that we feel now is the time to help them see and believe that they can be the change we want to see in the world.  It is a golden opportunity that we have as part of your 'village' and we are happy to help them grow.
Jr. Solid Belt Program (Jr. Beginner – Advanced)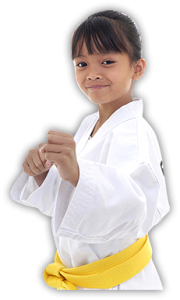 As the students get older the way we teach and the expectations continue to increase.  Physical fitness, attitude in training, and mental focus all increase in importance. In this group we foster the need of the students to be a part of a group, while at the same time helping each of them individually to grow in their physical skills.  The technical approaches to training focus on increasing mastery of their martial art. We challenge them to try their hardest and push them to find their limits and push beyond them.  In doing so, they are preparing to transition to the next phase of training: Earning a Balanced Life Skills Black Belt.
It is our greatest joy to help our students progress through their training to reach this level.  At this level, Tae Kwon Do training presents many physical and mental challenges.  Physical fitness, precision in technique, and sparring abilities are all honed.
Kick it: All-girl Class! (Age 7 – 12 – Second through Eighth Grade)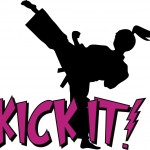 The Kick it! program meets one time per week on Monday evenings. In the 45 minute class, we cover both Big Dragon & Jr. Program curricula, and provide a safe space for positive socialization and mentorship between girls of various ages! Girls who attend the Kick it! Workshops are encouraged to begin this one-time-per-week class for an introduction to taekwondo! Or Kick it! can be taken in addition to her regular co-ed class!
Kick it! motivates young women to live life inspired, to be strong and confident, to be empathetic and kind, and to be empowered! In this all-girl program, young girls ages 7-12 will share in the experience of martial arts, friendship, fun, and the awesomeness of just being a girl!
Adult Solid Belt Program (Teen/Adult Beginner – Advanced)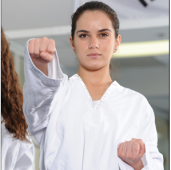 For adult students joining us for the first time, we offer a safe and fun environment to get a good work-out with a martial arts focus.  Our older students come to us with many different goals: physical fitness; mental focus; or simply joining their children in the pursuit of Tae Kwon Do training at Balanced Life Skills. Adult students will find a cooperative, collaborative, and supportive environment between instructors and students, and between the students.  We all work together to further your training and the attainment of your goals.
New adult students please call our studio to begin working out with other adults (no kids) in the class!  410-263-0050